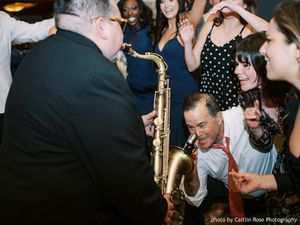 Meet Steven L Phillips - Luxury Event DJ and Saxman from Houston! Elevate your Event With Memorable Upbeat Music!
Experience the Perfect Blend of Live Sax and DJ Entertainment for Unforgettable Weddings and Corporate Gatherings
 Houston | Austin | Dallas | San Antonio
When it comes to hiring a Wedding DJ and Saxophonist, I offer a winning combination that sets me apart. Here's why you should consider me for your special day: 
1. Versatility: With expertise in both DJing and saxophone performance, I can seamlessly blend genres and create a diverse musical experience tailored to your taste. 
2. Unique Atmosphere: The enchanting sound of the saxophone adds a touch of elegance and sophistication to your wedding, creating a memorable and romantic ambiance. 
3. Professionalism: I take pride in the way I do business, ensuring clear communication, prompt responses, and meticulous attention to detail from start to finish. Your wedding will be flawlessly executed. 
4. Customization: I work closely with you to understand your musical preferences, incorporating your favorite songs and creating personalized playlists that reflect your style and vision. 
5. Energy and Engagement: As a dynamic performer, I guarantee a lively and energetic atmosphere, keeping your guests entertained and dancing throughout the night. 
6. Reliability: You can trust that I will arrive on time, fully prepared, and equipped with top-quality sound and lighting equipment, guaranteeing a seamless and hassle-free experience. 
Make your wedding day remarkable with the perfect blend of DJ beats and soulful saxophone melodies. Click on "CONTACT ME" below to discuss your wedding plans and let's make your dream celebration a reality!
Fantastic soulful tunes 
Steven made our evening very special, he captivated the audience with his soulful sax, he was polite, turned up prior to the event to set up and to make sure make sure we were happy with the program.As the Texas sun set his wonderful playing set the ambiance for the night. I would have no hesitation in recommending him for your event, we sure will be booking him again. -William K
You won't regret it! 
Steven is a professional and it is reflected in his communication and quality of work. Going to see him play in Sugarland this Thursday. Hooked - Phillip V
5 Stars. Beautiful sax music! 
Steven L. Phillips was the BEST! Everything he played was beautiful. I highly recommend him! Awe(some!) - Cheryl N 
Steven rocked my Wedding! 
I booked Steven originally to perform at my wedding on XX/XX/2020. Long story short, my wedding was postponed twice and finally took place on XX/XX/2021. Steven stood by us through the whole process and really made our day so special. Not only did he play throughout Cocktail Hour, but he played the song we picked out for the Bride to walk down the aisle to! We truly cannot thank him enough for the memories and beautiful music that will last in our hearts forever. 
Thank you, Steve! - Hassan K
Amazing musician! 
Steven, is a talented musician. We are huge jazz fans and have attended the Dave Koz jazz cruises many times. He sounded that good!! He did an amazing job for my son's wedding, he played for the wedding and reception. He arrived early and communicated frequently before the event. He was able to play a wide variety of songs that we selected. Amazing! I highly recommend him for any event. - Denise A 
Omg!!!!! We loved every moment❤️❤️❤️❤️ 
Where do I start!!! Steven was very professional! Arrived an hour earlier than the event. He played so beautiful it just made our Christmas party a huge bang!!! He communicated before, during and after the event to make sure we were comfortable with attire and song listings!!! I personally can't wait until I can rehire him again!!!! Totally, AMAZING ❤️❤️❤️❤️❤️ - Tracee D
Bridal shower with a touch of class. 
We are very pleased with the service! Mr Phillips is very professional...... he selected the most appropriate and beautiful music for the entire event. We definitely be in contact with Mr Phillips for my daughter's wedding. - Celina A
Great Wedding DJ 
Steve did a great job for our daughters wedding. Everything went so smoothly. He coordinated the music and sound for her outdoor ceremony and everything went flawlessly. We also had him dj the music for the reception. We had a small dance floor and a variety of age groups. Steve kept everything moving from the wedding party entrance, first dances, all the way to the end. He played a variety of music to keep everyone happy. He even played his sax while people ate. Sounded so smooth. He made a great day even better.- Becky P