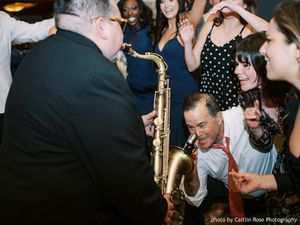 Upbeat Music for Fun and Memorable  Events
Live Sax + DJ  For for  Weddings and Corporate events in Houston | Austin | Dallas | San Antonio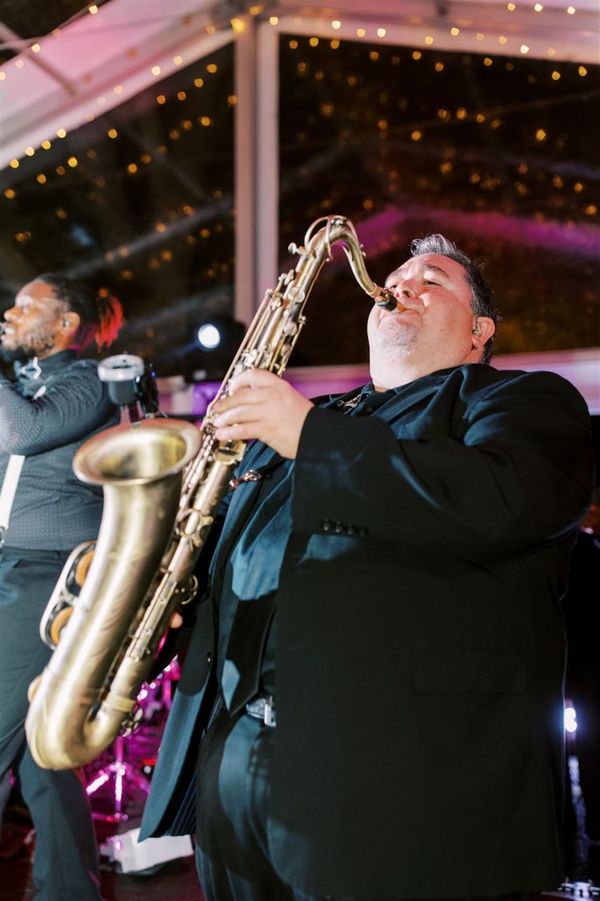 Impress Your Wedding and Event Guests!
 Weddings happen every day. Most, if not all, have music. A lot of it is good, and there's usually food, family and friends and some dancing. But weddings should be fun, memorable and unique celebrations! People should be talking about the great time they had for years to come. What if YOU could have that epic party that will be the talk of the year? 
There are many DJs who can provide a good musical experience. Maybe they mix like a club DJ or have a stunning light show. But you can get more or less the same experience from many seasoned DJs. What I offer is something a little different...a little spicier...with some sizzle!
If you want to have the peace of mind that comes from hiring a professional who takes pride in making your day the best day ever, PLUS the added sizzle of a world-class live saxophonist, you should hire a guy who can do both! What a way to make your event as unique as the love you share for each other!
Fantastic soulful tunes 
Steven made our evening very special, he captivated the audience with his soulful sax, he was polite, turned up prior to the event to set up and to make sure make sure we were happy with the program.As the Texas sun set his wonderful playing set the ambiance for the night. I would have no hesitation in recommending him for your event, we sure will be booking him again. -William K
You won't regret it! 
Steven is a professional and it is reflected in his communication and quality of work. Going to see him play in Sugarland this Thursday. Hooked - Phillip V
5 Stars. Beautiful sax music! 
Steven L. Phillips was the BEST! Everything he played was beautiful. I highly recommend him! Awe(some!) - Cheryl N 
Steven rocked my Wedding! 
I booked Steven originally to perform at my wedding on XX/XX/2020. Long story short, my wedding was postponed twice and finally took place on XX/XX/2021. Steven stood by us through the whole process and really made our day so special. Not only did he play throughout Cocktail Hour, but he played the song we picked out for the Bride to walk down the aisle to! We truly cannot thank him enough for the memories and beautiful music that will last in our hearts forever. 
Thank you, Steve! - Hassan K
Amazing musician! 
Steven, is a talented musician. We are huge jazz fans and have attended the Dave Koz jazz cruises many times. He sounded that good!! He did an amazing job for my son's wedding, he played for the wedding and reception. He arrived early and communicated frequently before the event. He was able to play a wide variety of songs that we selected. Amazing! I highly recommend him for any event. - Denise A 
Omg!!!!! We loved every moment❤️❤️❤️❤️ 
Where do I start!!! Steven was very professional! Arrived an hour earlier than the event. He played so beautiful it just made our Christmas party a huge bang!!! He communicated before, during and after the event to make sure we were comfortable with attire and song listings!!! I personally can't wait until I can rehire him again!!!! Totally, AMAZING ❤️❤️❤️❤️❤️ - Tracee D
Bridal shower with a touch of class. 
We are very pleased with the service! Mr Phillips is very professional...... he selected the most appropriate and beautiful music for the entire event. We definitely be in contact with Mr Phillips for my daughter's wedding. - Celina A
Great Wedding DJ 
Steve did a great job for our daughters wedding. Everything went so smoothly. He coordinated the music and sound for her outdoor ceremony and everything went flawlessly. We also had him dj the music for the reception. We had a small dance floor and a variety of age groups. Steve kept everything moving from the wedding party entrance, first dances, all the way to the end. He played a variety of music to keep everyone happy. He even played his sax while people ate. Sounded so smooth. He made a great day even better.- Becky P